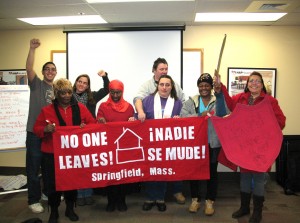 The Springfield No One Leaves Campaign and Springfield Bank Tenant Association are mobilizing a growing movement to resist the mass amounts of post-foreclosure evictions that are being carried out by major lending institutions that are destroying our community.
We are mobilizing residents most affected by the foreclosure crisis, taking direct action to put pressure on the big banks, building and empowering new leaders to organize for a more just and equitable economy that puts people before profit!
Your contribution will go towards building this exciting movement including but not limited to, organizing events & actions and providing opportunities for leadership development.
*Right To The City Alliance, Inc. is our 501c3 Fiscal Sponsor. All donations will go towards the Springfield No One Leaves Campaign and are tax-deductible.