After multiple phone calls to their attorney's offices and receiving press releases announcing our plans to protest with the Medina family, the bank has POSTPONED the auction as of 8 AM this morning! The auction is now scheduled for January 30th, 2012 at 2PM - We'll be there to support Ms. Medina! 
In 1968, Dr. King said:Â "We are at the moment when our lives must be placed on the line if our nation is to survive its own folly. Every man of humane convictions must decide on the protest that best suits his convictions, but we must all protest."
We are again at a similar moment – WE MUST PROTEST AND WE WILL CONTINUE TO PROTEST to demand and bring about justice! 
Following this VICTORY, we can't just sit quiet in honor of Dr. King. We encourage everyone to head to the MLK Day Celebration hosted by the American Friends Service Committee in Northampton, where our very own, youth activist, bank tenant member and incredible leader Kalimah Dunwell (14) will be speaking!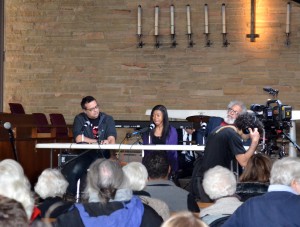 (click the link to see Kalimah at our 11/21 protest)Â 
Youth Organizing: From #OCCUPYWALLST to the Fight Against Foreclosures! 
TODAY – MLK DAY – 11AM to 4PMÂ 
Edwards Church of Northampton 
297 Main Street, Northampton, MA 01060
The American Friends Service Committee (AFSC) of Western Massachusetts is having it's 28th annual celebration of Dr. Martin Luther King's birthday on Monday, January 16, 2012! Our theme is Non-violent Youth Organizing, to tie together events from MLK's life to present day actions like the occupy movement. THERE WILL ALSO BE LUNCH! 
NEXT OPPORTUNITY TOÂ PROTESTÂ W/ SPRINGFIELD NO ONE LEAVES:Â Â 
Protest Against Fannie Mae & Freddie Mac Public Taxpayer Shareholder Meeting THURSDAY JANUARY 19TH, 2012 @ 12:30 PM 
Across from Western Mass Housing Court (37 Elm St, Springfield) – near Court Square
FNMA was planning to foreclose on Ms.Medina today. 12 of our members are being evicted by Fannie Mae or Freddie Mac, even though in all 12 cases they can either pay rent or afford the house at the current market value! Fannie & Freddie would rather evict! 
Fannie & Freddie are 90 percent taxpayer owned! WE THE TAXPAYER, are the real shareholders, the real board members of Fannie & Freddie. Come out to hear testimony of families affected by Fannie & Freddie's devastating practices and exercise YOUR vote on
Fannie & Freddie should immediately end all no-fault evictions after foreclosure. They should either accept rent from residents OR sell the home to occupants in foreclosed homes at the current market value! 
Fannie & Freddie should approve a plan to reduce principal balances on underwater mortgages to the current market value! It is in the best financial interest of the taxpayer. (See a great hearing where Rep. Tierney questions Fannie/Freddie chief Edward DeMarco on principal reduction HERE!
Following our shareholder meeting and votes – we will head into the court to support two of our members who have court hearings in an eviction case vs. FNMA and deliver our mandates to Fannie & Freddie's attorneys!