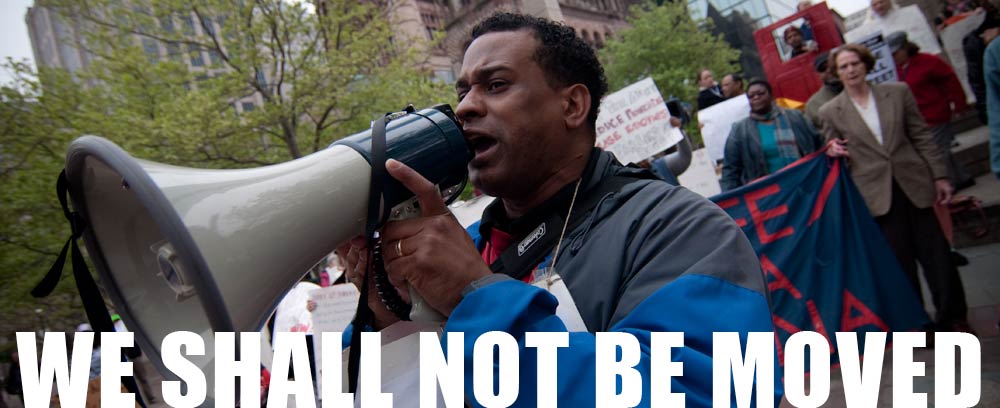 This month we're partnering with Kelly Creedon of We Shall Not Be Moved to transform a vacant commercial space in downtown Springfield into a community-inspired gallery. This exhibit will feature community-generated images and stories from the grassroots struggle against foreclosure in Springfield and around Massachusetts.
OPENING RECEPTION:Â FRIDAY, DECEMBER 2, FROM 5 TO 8 PMÂ (PROGRAM BEGINS AT 6 PM)
Join us for a great evening to celebrate the growing movement against foreclosure in Springfield. The reception will feature testimonies from members of the Springfield No One Leaves/Nadie Se Mude Bank Tenant Association. Light refreshments will be served.
LOCATION: 176 WORTHINGTON STREET, SPRINGFIELD, MA 01103Â (FORMERLY SUBURBAN STAMP – ACROSS FROM THEODORE'S)
EXHIBIT ON VIEW: NOVEMBER 21 THROUGH DECEMBER 18
(CONTACT US FOR A FULL SCHEDULE OF GALLERY HOURS)
We Shall Not Be Moved is a multimedia exhibit by documentary photographer Kelly Creedon that explores the human impact the foreclosure crisis. The exhibit combines compelling images and moving audio testimonies to tell the story of families fighting to protect their homes and communities against the devastating consequences of foreclosure.
Exhibit venue provided by Morgan Square.
For more information, contact:Â 
Malcolm Chu of Springfield No One Leaves/Nadie Se Mude – nooneleavesspringfield@gmail.com — 413-342-1804
Kelly Creedon – kelly@kellycreedon.com — 617.771.2844
Help us spread the word: RSVP on Facebook and invite your friends!