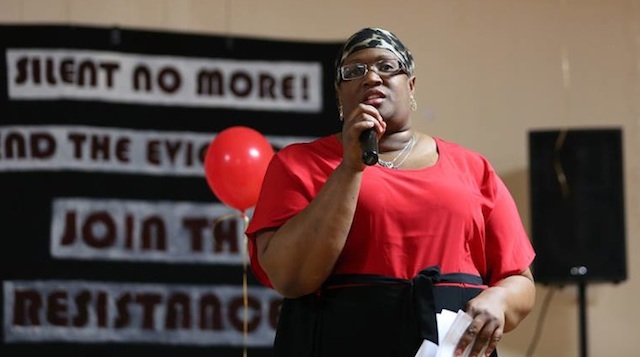 Activists from Occupy Homes Minnesota Held a protest today to deliver 1350+ Petition Signatures to US Bank Headquarters in support of Springfield Resident Candejah Pink
Thursday December 19, 2013 — On a cold blustery day in downtown Minneapolis, 10 residents from Occupy Homes Minnesota (OHMN) marched on the headquarters of US Bank to deliver a petition with more than 1350 signatures in support of Candejah Pink. The petition, launched on October 22, 2013 calls on US Bank CEO Richard K. Davis to "stop evicting Candejah Pink from her home and negotiate with her to keep her, her daughters, and her granddaughter in their home!"
Candejah, humbly offered these words to activists and the world: "I really appreciate Occupy Homes Minnesota for bringing our petition to US Bank and the solidarity from across the country from people who signed the petition. Our movement fighting against corporate greed and Wall Street needs to be spread so that our economy is more balanced and more fair. I am hopeful that our movement will continue to grow and get stronger as we work together in all states."
Candejah has been fighting for her home for more than 3 years after it was allegedly foreclosed by US Bank in 2010. In August 2013 a Western Massachusetts Housing Court judge ruled that US Bank's eviction was illegal and threw out the case. Yet, US Bank opted to restart the eviction instead of negotiating with her.
Candejah fell behind after losing her job of 14 years at the NYC Fire Department. She now has regular monthly income and her daughter's both work. They are able to afford their home and have been urging US Bank to give their home back to them at what it's actually worth.
"Candejah can afford to pay and wants to pay. US Bank would rather spend tens of thousands of dollars in legal fees to get her out and leave her home empty. The best solution for everyone is to get Candejah back her home and let her daughters and granddaughter stay, " explains Springfield organizer Malcolm Chu.
A trial in the new eviction case has been set for January 31, 2014 at 9:00 AM in the Western Mass Housing Court in Springfield. Local organizers and the Springfield Bank Tenants Association are planning a protest in front of the court of the eviction trial in January if US Bank continues to refuse to negotiate.
The two copies of the petitions posted online can be found here:
Occupy Our Homes: http://start2.occupyourhomes.org/p/Candejah
Change.org: https://www.change.org/petitions/us-bank-give-candejah-back-her-home